Memorable Golf in a Superb Natural Setting
Designed by two-time U.S. Open Champion Andy North and Roger Packard, Eagle Brook Country Club's remarkable 254-acre links-style championship layout was artfully designed to blend seamlessly with its pristine natural surroundings just 45 minutes from Chicago. Large stands of mature trees frame gently rolling fairways and immaculate emerald greens, with 92 acres of preserved wetlands adding to the course's strategic diversity as well as its breathtaking beauty.
Five sets of tees on each hole and unique family tees enable golfers of all ages and abilities to enjoy this tranquil golf oasis, which is reserved exclusively for Members and their invited guests - with golf outings available to be booked on Mondays only.
Before or after a round, golfers can hone their skills on the club's expansive bentgrass practice facility, complete with a driving range, large putting green and bunker area - along with an indoor teaching and practice area that can be used year-round. A variety of golf instructional programs are offered year-round taught by top PGA teaching professionals, ranging from private lessons and on-course instruction to group clinics and summer junior golf camps.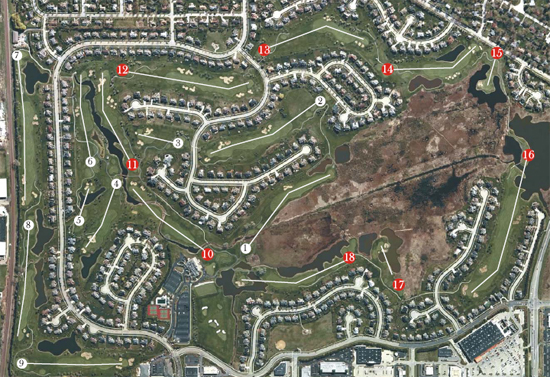 Walkthrough
Our 18 Hole Course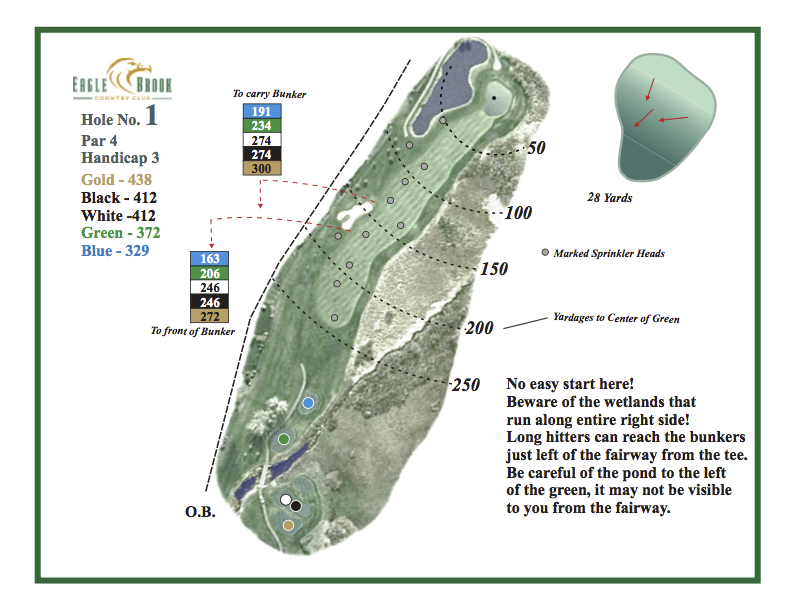 | | |
| --- | --- |
| Gold | 438 |
| Black | 412 |
| White | 412 |
| Green | 372 |
| Blue | 329 |
| Par (Men) | 4 |
| Par (Ladies) | 4 |
| Handicap (Men) | 3 |
| Handicap (Ladies) | 4 |
| | |
| --- | --- |
| Gold | 487 |
| Black | 487 |
| White | 461 |
| Green | 423 |
| Blue | 395 |
| Par (Men) | 5 |
| Par (Ladies) | 5 |
| Handicap (Men) | 13 |
| Handicap (Ladies) | 12 |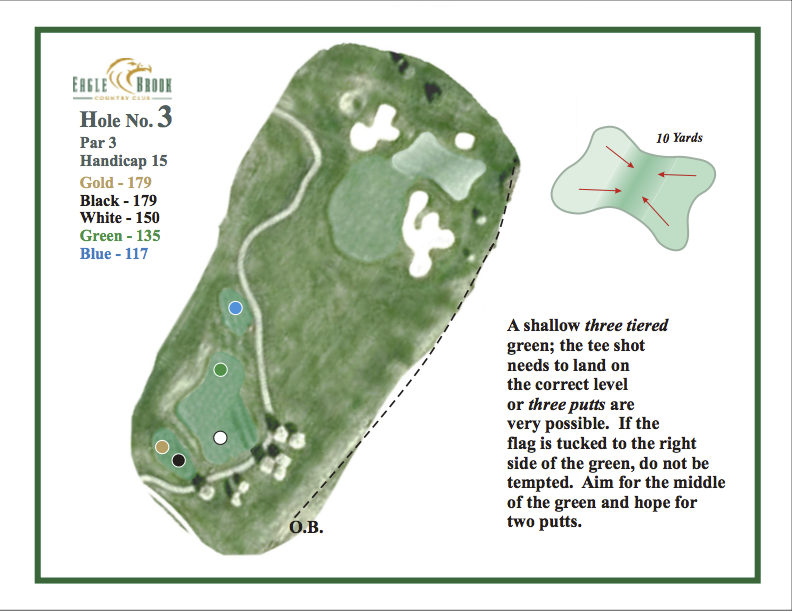 | | |
| --- | --- |
| Gold | 179 |
| Black | 179 |
| White | 150 |
| Green | 135 |
| Blue | 117 |
| Par (Men) | 3 |
| Par (Ladies) | 3 |
| Handicap (Men) | 15 |
| Handicap (Ladies) | 16 |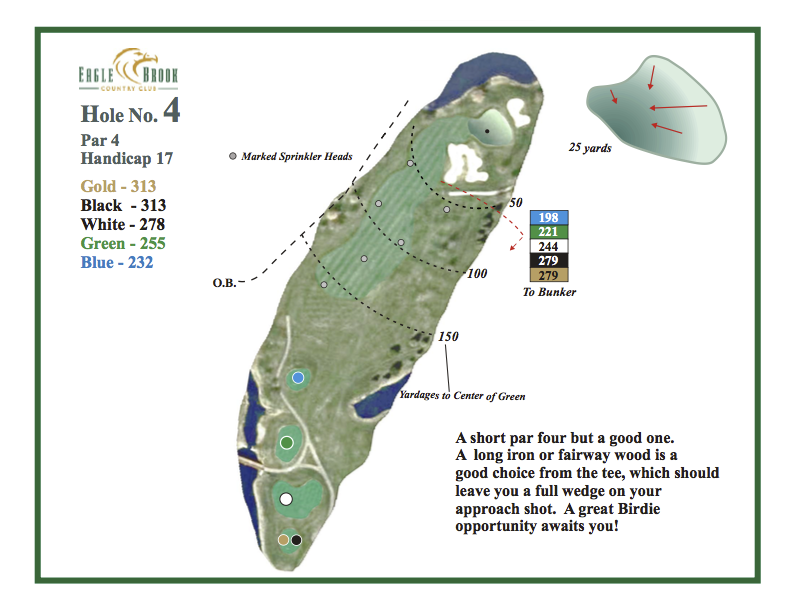 | | |
| --- | --- |
| Gold | 313 |
| Black | 313 |
| White | 278 |
| Green | 255 |
| Blue | 232 |
| Par (Men) | 4 |
| Par (Ladies) | 4 |
| Handicap (Men) | 17 |
| Handicap (Ladies) | 18 |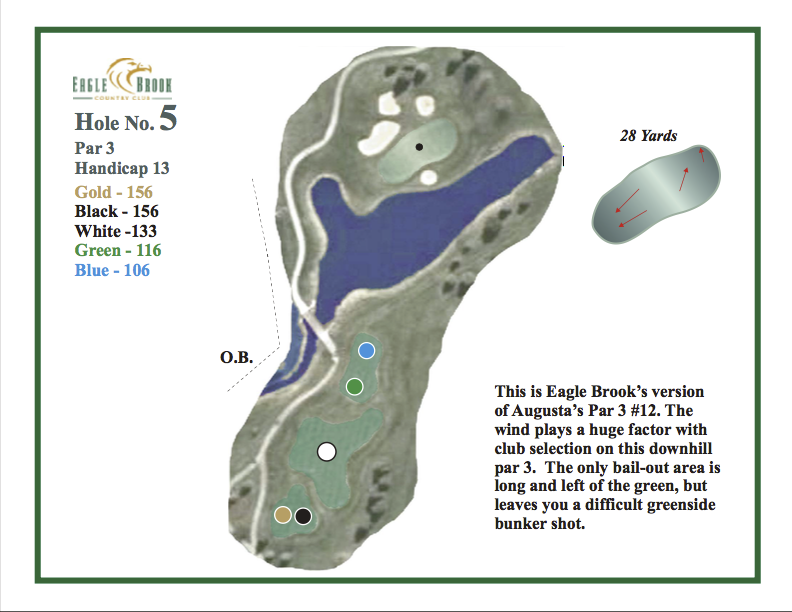 | | |
| --- | --- |
| Gold | 156 |
| Black | 156 |
| White | 133 |
| Green | 116 |
| Blue | 106 |
| Par (Men) | 3 |
| Par (Ladies) | 3 |
| Handicap (Men) | 7 |
| Handicap (Ladies) | 10 |
| | |
| --- | --- |
| Gold | 359 |
| Black | 359 |
| White | 336 |
| Green | 318 |
| Blue | 277 |
| Par (Men) | 4 |
| Par (Ladies) | 4 |
| Handicap (Men) | 5 |
| Handicap (Ladies) | 8 |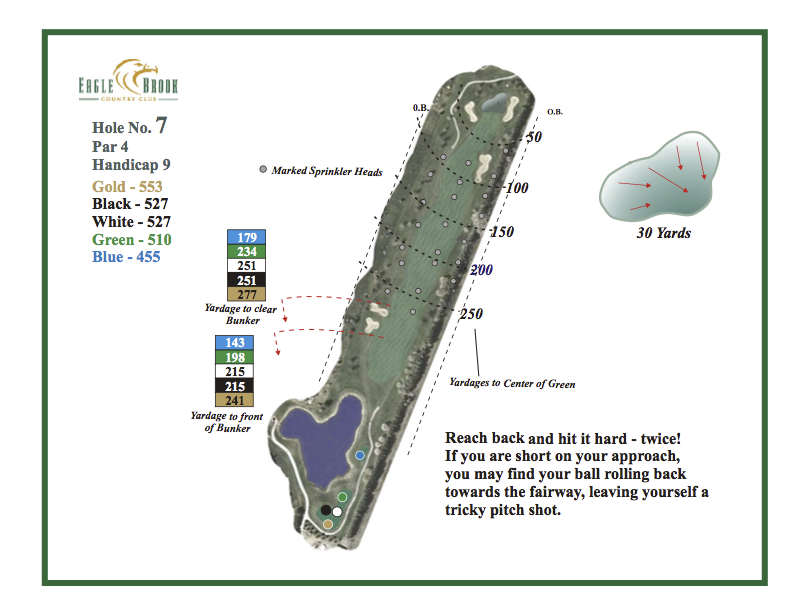 | | |
| --- | --- |
| Gold | 553 |
| Black | 527 |
| White | 527 |
| Green | 510 |
| Blue | 455 |
| Par (Men) | 5 |
| Par (Ladies) | 5 |
| Handicap (Men) | 9 |
| Handicap (Ladies) | 6 |
| | |
| --- | --- |
| Gold | 393 |
| Black | 393 |
| White | 368 |
| Green | 356 |
| Blue | 304 |
| Par (Men) | 4 |
| Par (Ladies) | 4 |
| Handicap (Men) | 1 |
| Handicap (Ladies) | 2 |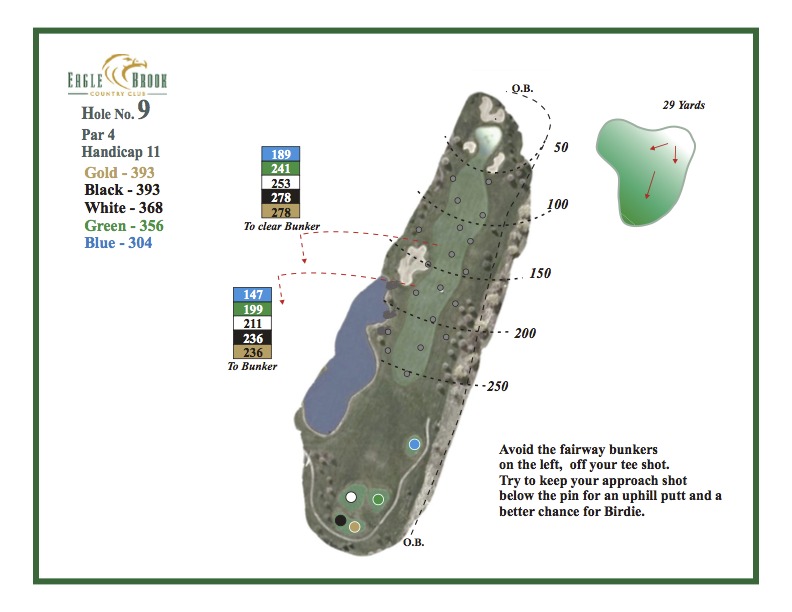 | | |
| --- | --- |
| Gold | 393 |
| Black | 393 |
| White | 368 |
| Green | 356 |
| Blue | 304 |
| Par (Men) | 4 |
| Par (Ladies) | 4 |
| Handicap (Men) | 11 |
| Handicap (Ladies) | 14 |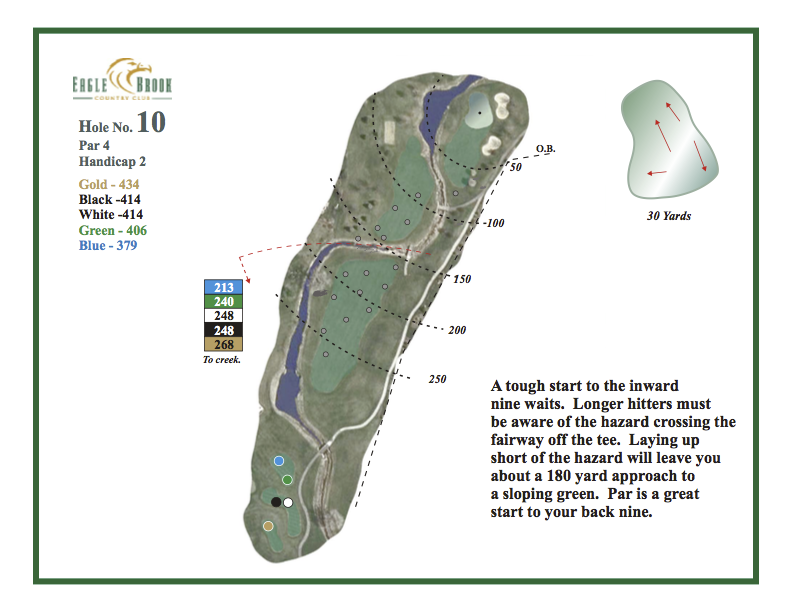 | | |
| --- | --- |
| Gold | 434 |
| Black | 414 |
| White | 414 |
| Green | 406 |
| Blue | 379 |
| Par (Men) | 4 |
| Par (Ladies) | 5 |
| Handicap (Men) | 2 |
| Handicap (Ladies) | 3 |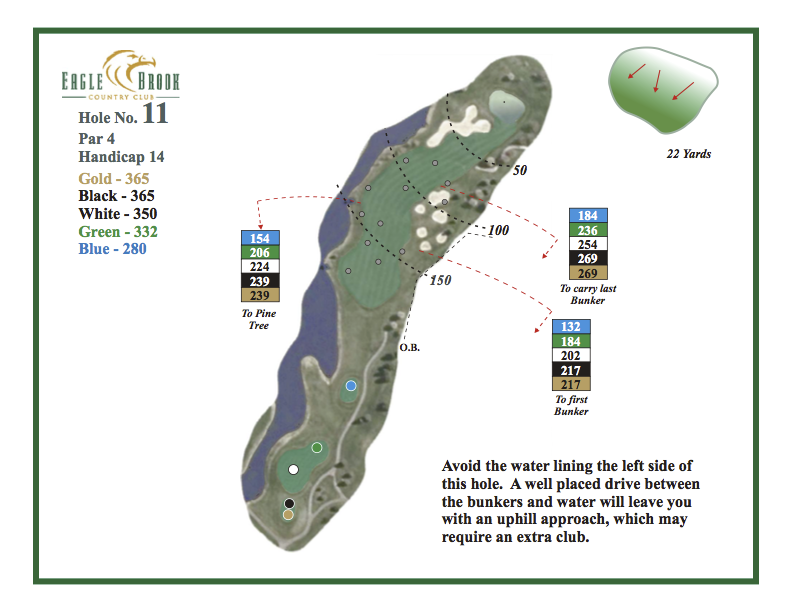 | | |
| --- | --- |
| Gold | 365 |
| Black | 365 |
| White | 350 |
| Green | 332 |
| Blue | 280 |
| Par (Men) | 4 |
| Par (Ladies) | 4 |
| Handicap (Men) | 14 |
| Handicap (Ladies) | 7 |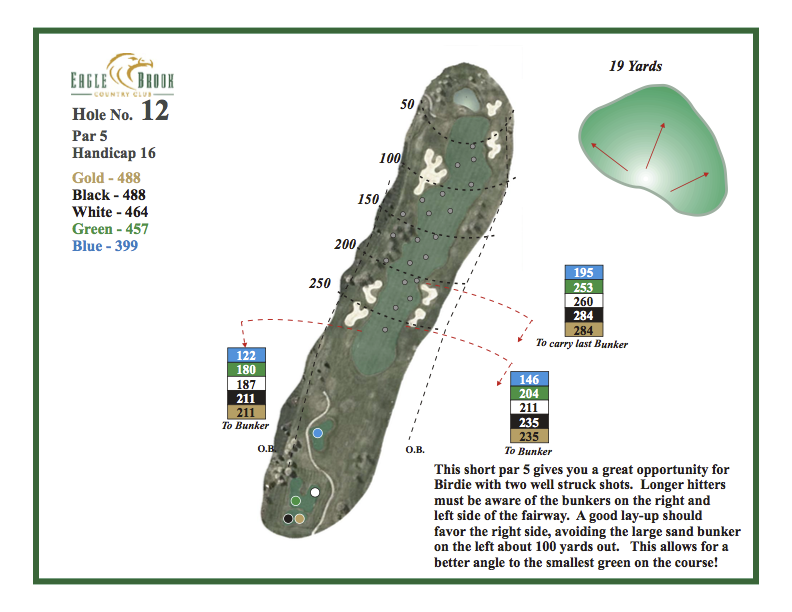 | | |
| --- | --- |
| Gold | 488 |
| Black | 488 |
| White | 464 |
| Green | 457 |
| Blue | 399 |
| Par (Men) | 5 |
| Par (Ladies) | 5 |
| Handicap (Men) | 16 |
| Handicap (Ladies) | 15 |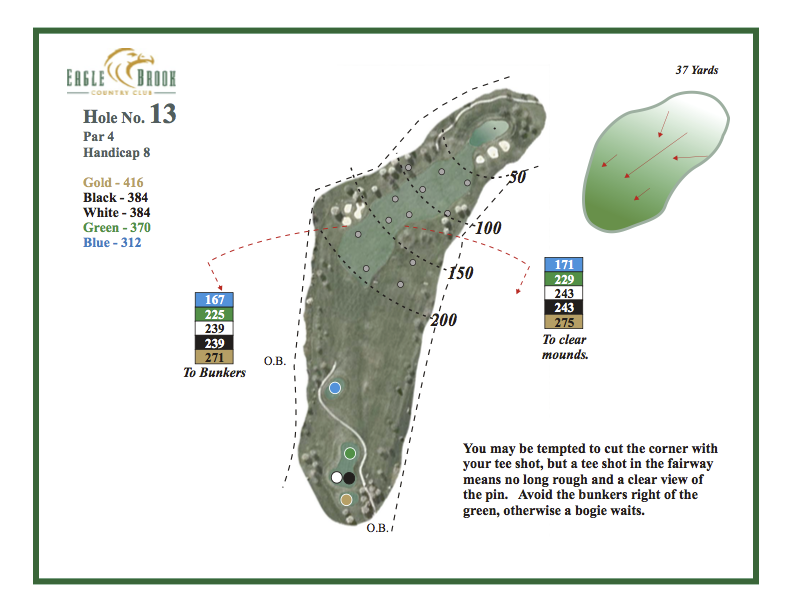 | | |
| --- | --- |
| Gold | 416 |
| Black | 384 |
| White | 384 |
| Green | 370 |
| Blue | 312 |
| Par (Men) | 4 |
| Par (Ladies) | 4 |
| Handicap (Men) | 8 |
| Handicap (Ladies) | 11 |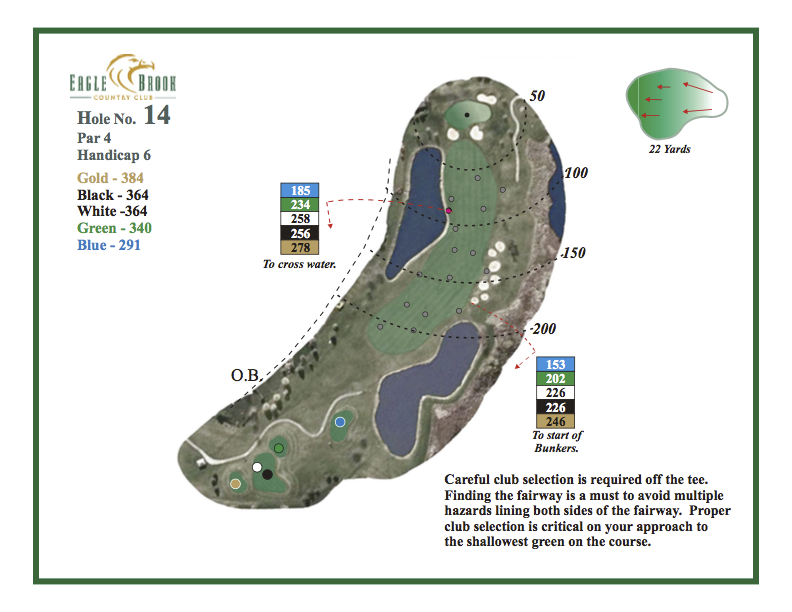 | | |
| --- | --- |
| Gold | 384 |
| Black | 364 |
| White | 364 |
| Green | 340 |
| Blue | 291 |
| Par (Men) | 4 |
| Par (Ladies) | 4 |
| Handicap (Men) | 6 |
| Handicap (Ladies) | 9 |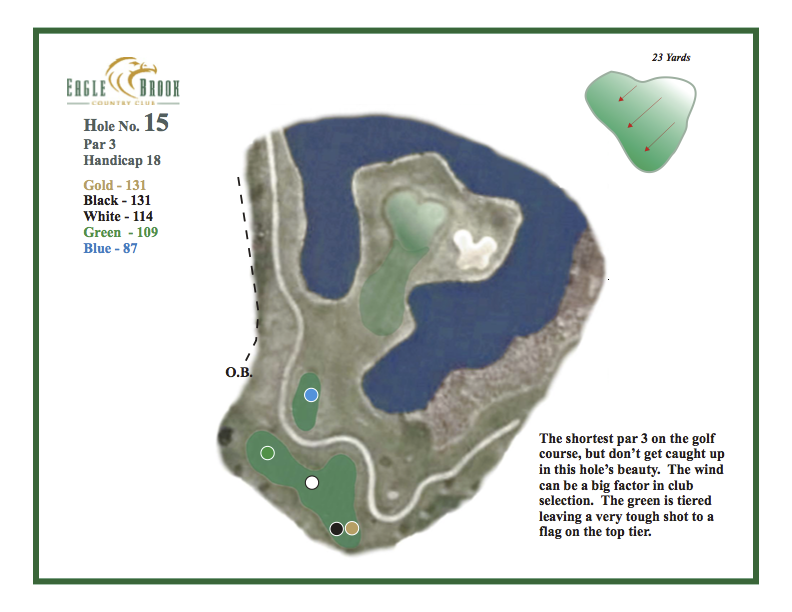 | | |
| --- | --- |
| Gold | 131 |
| Black | 131 |
| White | 114 |
| Green | 109 |
| Blue | 87 |
| Par (Men) | 3 |
| Par (Ladies) | 3 |
| Handicap (Men) | 18 |
| Handicap (Ladies) | 17 |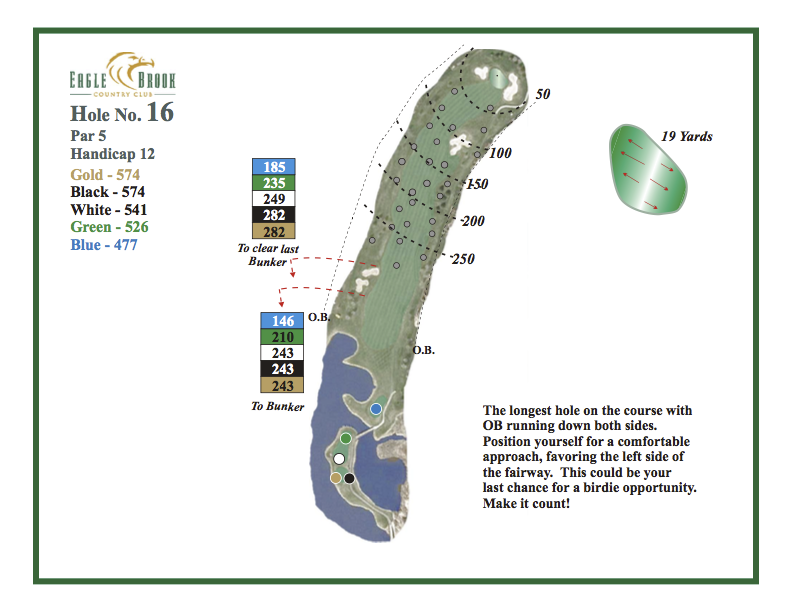 | | |
| --- | --- |
| Gold | 574 |
| Black | 574 |
| White | 541 |
| Green | 526 |
| Blue | 477 |
| Par (Men) | 5 |
| Par (Ladies) | 5 |
| Handicap (Men) | 12 |
| Handicap (Ladies) | 5 |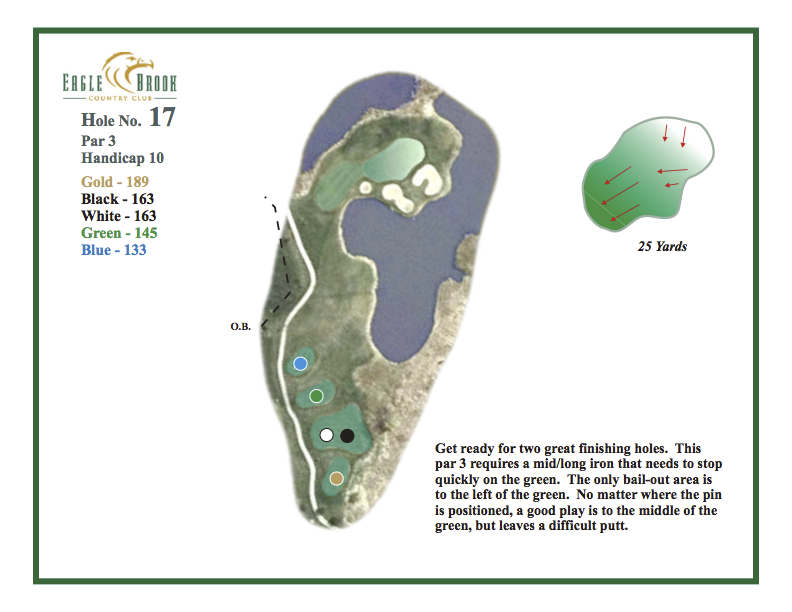 | | |
| --- | --- |
| Gold | 189 |
| Black | 163 |
| White | 163 |
| Green | 145 |
| Blue | 133 |
| Par (Men) | 3 |
| Par (Ladies) | 3 |
| Handicap (Men) | 10 |
| Handicap (Ladies) | 13 |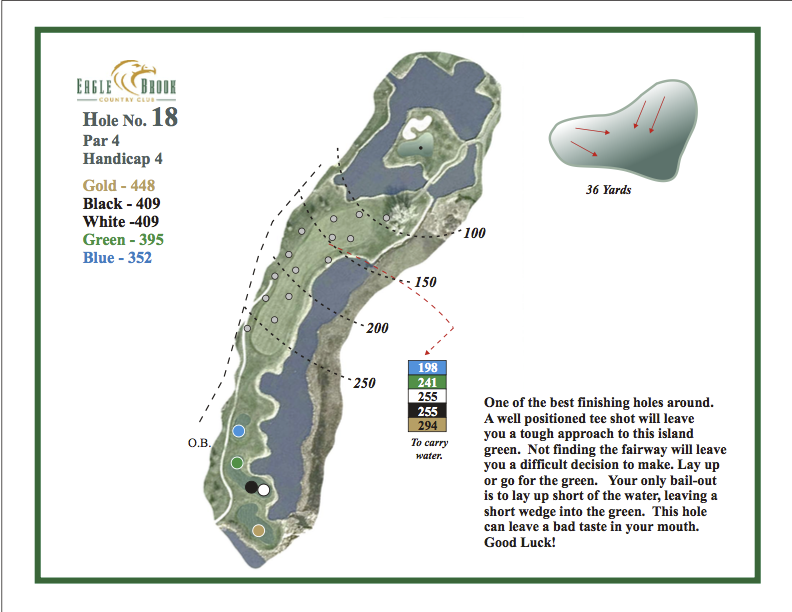 | | |
| --- | --- |
| Gold | 448 |
| Black | 409 |
| White | 409 |
| Green | 395 |
| Blue | 352 |
| Par (Men) | 4 |
| Par (Ladies) | 4 |
| Handicap (Men) | 4 |
| Handicap (Ladies) | 1 |